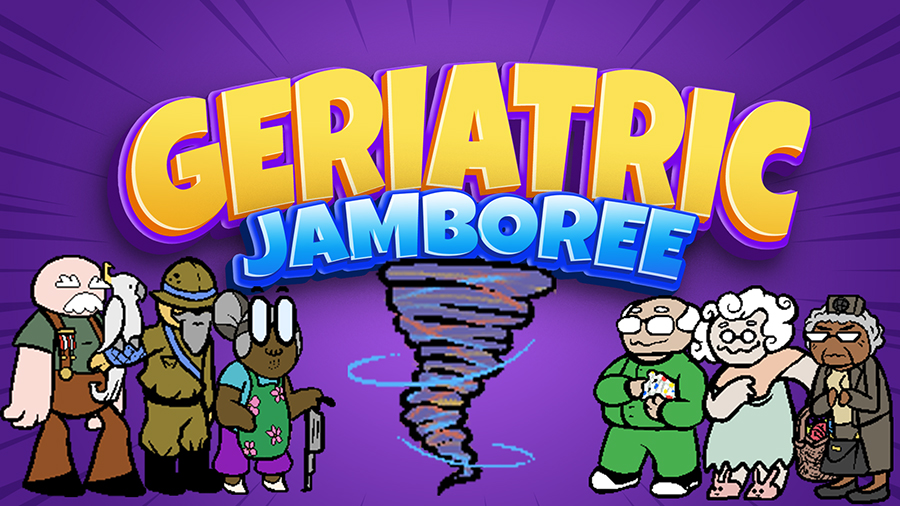 Geriatric Jamboree
A downloadable game for Windows
GERIATRIC JAMBOREE is a 2D fighting game where heroes are elderly and they fight with yarn balls, muffin guns, chips, dentures, and--the most dangerous--pigeon poop!
Original Concept by: Lauren Stipp
Game Design: Levi Arnett, Sam Fewkes, Rafael Gonzales, Martin Page, Sercan Sengun, Scott Sharkey, Lys Shilling, Lauren Stipp

Lead Art: Lys Shilling

Lead Programming: Martin Page

Audio & Music: Rafael Gonzales

Additional Art: Levi Arnett, Sam Fewkes, Scott Sharkey

Additional Programming: Sam Fewkes

Capstone Instructor: Sercan Sengun

Special Thanks: Amanda Hoffman, Jasmine Ogunnaike

This game was created for CTK 355 Capstone Fall 2021/Spring 2022 classes at Illinois State University, Creative Technologies Game Design Sequence.
https://finearts.illinoisstate.edu/creative-technologies/
@ISUCreativeTech

Player One Controls:
A: Left
D: Right
W and Spacebar: Jump
Q: Fire Left
E: Fire Right
Tab: Super Left
R: Super Right
Player Two Controls (Gamepad Only):
D-Pad Left and Right: Move Left or Right
D-Pad Up and (A for Xbox, X for Playstation): Jump
Left Bumper/L1 B(Xbox)/Circle(Playstation): Fire Left
Right Bumper/R1 X(Xbox)/Square(Playstation): Fire Right
Left Trigger/L2: Super Left
Right Trigger/R2: Super Right
On character select, player 2 can use the controller to select their character after player one has selected theirs using the left stick and X(Xbox)/Square(Playstation).
Download
Download
Geriatric Jamboree Beta .9.zip
250 MB